What is ShockWatch Price? Shockwatch impact indicator deters mishandling and reduce damage related costs to your products. Indicate when the packaging has been exposed to a potentially damaging impact during transit or in storage.
Since the COVID-19 has been pandemic in 2020, the air/sea freight rate has soared and become hard to come by. Many companies have been born at an increasing cost. As a result, the safety of cargo in transportation is particularly important.
What are shock stickers?
ShockWatch Inc., now Spotsee, in the United States launched Shockwatch Indicator Label in 1976. The impact indicators can detect whether a collision happened to a shipment during transportation. The consignee can quickly inspect the goods inside when seeing bright red. To take delivery or ask for compensation, just take a glance at the color change.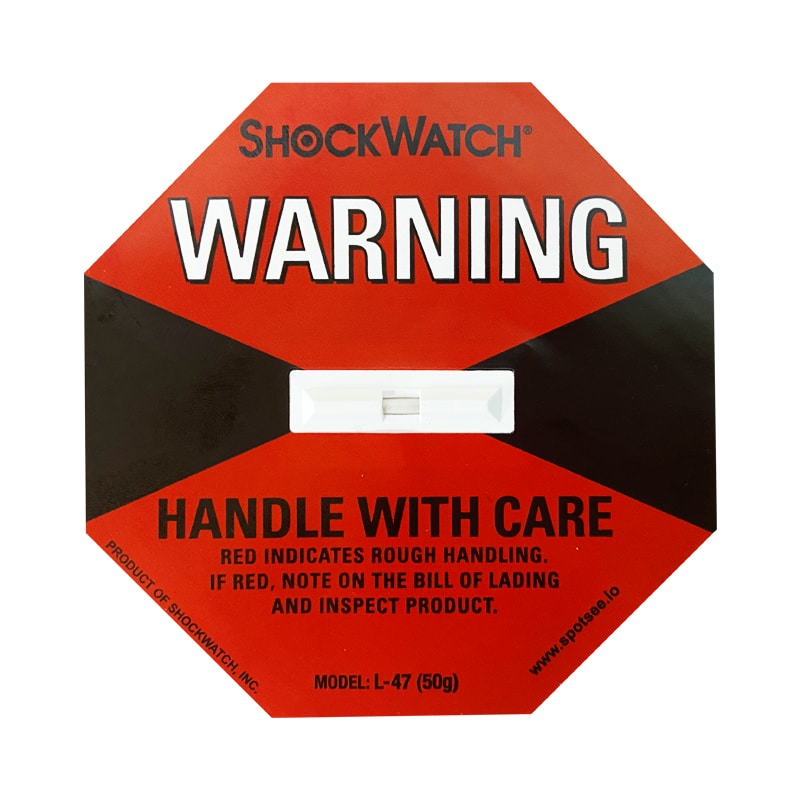 Shockwatch Label 50G Red
ShockWatch variety provides different applications, such as
ShockWatch Clip
Products up to 500 cubic feet in volume and 10,000 pounds can be secured with ShockWatch Clips. For additional sensitivities and monitoring needs, ShockWatch offers additional indicators and recorders.
ShockWatch Tube
By enabling customers to integrate impact-sensing technologies directly into their products, the ShockWatch Tube impact indicator gives customers a competitive edge. Considering Power and Cost When Embedding Shock Indicators Into New Products
ShockDot
ShockDot indicators are a simple solution for spotting possibly damaged goods and increasing supply chain responsibility. It has a larger display for greater visibility, QR code for quick scan, and serial number for tamperproof.
What Can ShockWatch Indicator help?
From completed production on a conveyor, moving merchandise by forklift, storage, carrier, and delivery to the customer, Shockwatch Indicator helps monitor the entire process to see whether a collision happens. This color change on the indicator can determine the damage caused by the carrier. It not only provides a smoking gun of damage but also can deter the handlers from rough mishandling.
【Read More: Are Damaged Goods Impacting Your Service?】
ShockWatch Labels Spec & Applications
ShockWatch Labels can be applied to packaging such as cartons, stacked goods on pallets, wooden crates, etc., and types of Shockwatch models comply with various industries.
ShockWatch Labels Spec Table

Product Name
MFG No.
Sensitivity
Suitable Size
Pack
L-65 ShockWatch 25G (Yellow)
20700
25G ± 15%
Large Cargo

50PCS per box


1600PCS per carton 

L-55 ShockWatch 37G (Purple)
20686
37G ± 15%
Large Cargo
L-47 ShockWatch 50G (Red)
20500
50G ± 15%
Large/Small Cargo
L-35 ShockWatch 75G (Orange)
20300
75G ± 15%
Small Cargo
L-30 ShockWatch 100G (Green)
20100
100G ± 15%

Small Cargo
How Does Shock Label help Your Business?
How Does the ShockWatch Sensor Work?
ShockWatch Sensor is a ShockWatch Stickers that combine with Shock Sensor and Stickers. The shock sensor is a combination of water, red ink and viscosity-changed material. The G value of the product is controlled by the viscosity of different liquids. The following video and pictures clearly indicate and understand how Shock Sensor works.
【Read More About – ShockWatch How it Works?】
How to determine the correct Shockwatch g force?
Each g shockwatch sensor has a corresponding "G," which means that the indicator will begin to turn red when the shock acceleration exceeds the G value number. The required shock force increases with the size of the number. According to the spec, the tolerance of each G level is ±15%. That is, within the range of plus or minus 15% of the specified G level, the indicator should be activated. This can also be regarded as the correct G force.

Where to Buy Shockwatch Stickers?
According to the statistics of the American Packaging Association, there is a 6% chance of causing direct or indirect damage to goods, but as long as ShockWatch Stickers are used, the damaged delivery rate is smoothly reduced by about 70%, which is important for supply chain. It is a helpful Packaging Solution.
We already know that ShockWatch Stickers provides several benefits for cargo transportation, but Where Can I Buy ShockWatch?
We have compiled the contact info for ShockWatch companies in the world. Please see as follows.
| | |
| --- | --- |
| Country | Website |
| ShockWatch Taiwan | https://www.shockwatch.tw/ |
| Shockwatch com | https://shockwatchlabels.com/ |
| ShockWatch UK | https://www.shockwatchuk.com/ |
| ShockWatch Australia | https://www.shockwatch.com.au/ |
| ShockWatch New Zealand | https://shockwatch.co.nz/ |
| ShockWatch India | https://www.srvcontrols.com/ |
| ShockWatch Belgium | https://www.scorebelgium.com/ |
| ShockWatch Germany | https://jumbo-solutions.de/ |
| ShockWatch Denmark | http://www.granbypack.dk/ |
| ShockWatch Norway | https://elcon-broker.no/ |
| ShockWatch South Africa | https://www.shockwatch.co.za/ |
| Uline ShockWatch | https://www.uline.com/BL_1053/Shockwatch |
Shockwatch Price, Shockwatch Indicator Price
When you search the price online,  the Shockwatch indicator prices fall around as table below. However, the distribution price and local price for retail may be different due to quantity, tax and local costs. In the market, Spotsee Shockwatch costs from USD $3 to $6 while Shockwatch 2 costs from USD $2 – $5.
Company Name
Product Name
Price (USD)
SpotSee
ShockWatch
$3 – $6
ShockWatch 2
$2 – $5
Shockwatch Market Price
Buy Shockwatch: Points For Attention
ShockWatch Companion Labels
There is one thing that people often overlook, that is the shockwatch companion label is not included in accessories when you buy Shockwatch. In general, the companion label is free of charge accessory, but you have to purchase separately.
The accessory companion label is 200 PCS/roll, and the its pricing is USD 40~45 per roll.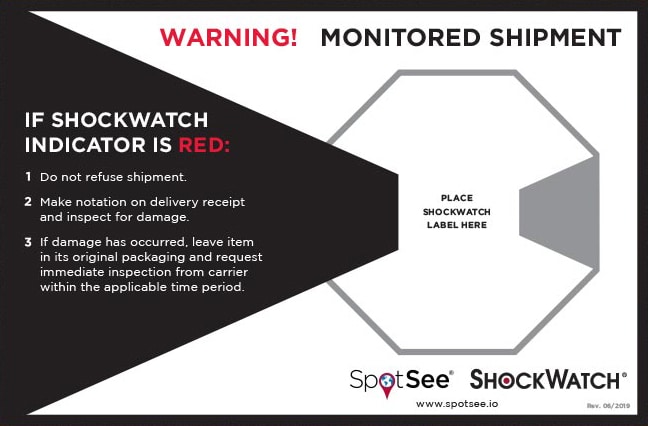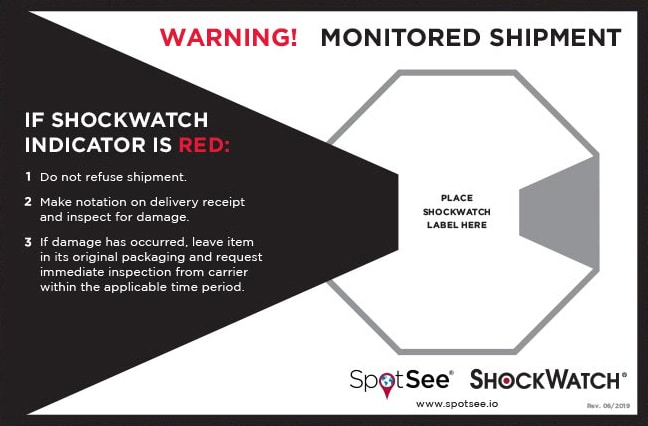 ShockWatch HS Code: 9031.80 or  4821.90?
HS Code stands for the harmonized system of international commodities, a unified standard that can quantify the tariff rates for entry and exit of various products. The first 6 codes of the HS Code are universally used in the world. Usually, each country will add two or four codes at the back to classify the goods in more detail according to their own needs.
So, what is the HS code for shockwatch labels?
For Shockwatch impact indicator, its HS code is 9031.80
For Shockwatch companion label, its HS code is 4821.90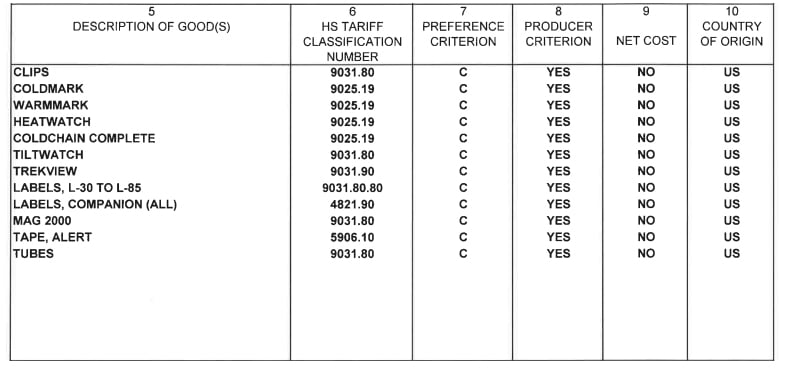 Certification for ShockWatch Impact Indicator?
Product certification is now a necessity in commercial transactions. A qualified product means the production, verification to hand into the customers must comply with the relevant specifications.
Shockwatch Impact Indicator complies with the relevant standards of ISO9001 and RoHs
Read More
| | |
| --- | --- |
| | Certificates indicate a company's level of excellence in a specific field. It sets a higher precedence for excellence and demonstrates to costumers |
Summary
ShockWatch Labels is a shock indicator with a long history and has a very high market share in the global market. However, other brands have taken the market share over time. The Impact Label produced by WAN-YO provides customers with another choice. We focus on both price and quality and provide customers with good value for money.