"Will there be a problem if I replace Tiltwatch XTR with Leaning Label?" This is always the customers' concern. 
Tiltwatch XTR is always the first impression of single use tip indicator for most customers. The Tiltwatch XTR label is a device that detects tilting force during delivery. Attached to goods that must remain upright and that cannot be tipped without indisputable evidence of mishandling.
Except for Tiltwatch XTR, how about Leaning Label? Is there any problem with the replacement of the two brands? 
What is TiltWatch XTR? What is TiltWatch indicator?
The Tiltwatch XTR label is a single-use device that detects tilting force during delivery. The TiltWatch indicator is a tip indicator used to monitor goods that must remain upright. TiltWatch XTR and TiltWatch indicator are the same product while ShockWatch is the sister product.
Easily monitor your shipments for damage due to excessive tilting whether a shipment has been turned on its side, turned over, or tilted at an angle that exceeds a predetermined level.
In fact, "TiltWatch XTR" is the brand name. We call it "tilt indicator" or "tip and tell indicator" for this type of product. In market, there are various types and brand names. Many people are used to calling tilt indicator as Tiltwatch, just like Google refers to "search."
3 Top Tilt Indicator: Tilt Watch XTR, Leaning Label, Tip N Tell
In multiple market, Spotsee TiltWatch, WAN-YO Leaning Label and Index Packaging Tip N Tell are the most common to see on market. They are also the foundry for many brands as far as we know.
Specification: Tiltwatch XTR, Leaning Label, Tip N Tell
The difference is slight, only obvious difference is the activation angle between Leaning Label and Tip N Tell.  Most customers care about the accuracy of the activation angle, with our experience.
| | | | |
| --- | --- | --- | --- |
|   | Tiltwatch XTR | Leaning Label | Tip N Tell |
| Product | | | |
| Market Share | 45% | 30% | 15% |
| Activation Angle | 80° | 80° | 45° |
| Size | 74.27mm x 60.31mm x 5.29mm | 75mm x 60mm x 5mm | 70mm x 95mm x 2mm |
| Companion Labels |   | | |
Certificate & SGS Reliability Test
In the modern business currency, RoHS and REACH certifications are basic certifications.  ISO9001 certification is the crucial key point, especially for tip indicators. 
TiltWatch XTR  and Leaning Label are ISO 9001 certified.
In addition to the certifications, product reliability tests are indispensable. Reliability usually refers to "trustworthy". For a product, higher reliability refers to reliable products. For the tip indicator, a tilt-angle reliability demonstration test on qualified laboratories, such as SGS, TUV, Intertek, is simply a guarantee for the product. 
Tiltwatch XTR and Leaning Label has reliable functional test report.
Read More
| | |
| --- | --- |
| |     Certificates indicate a company's level of excellence in a specific field. It sets a higher precedence…  |
What Colour will a tilt watch change if the cargo has been tilted at 80 degree angle?
RED. If the package to which TiltWatch XTR is attached is tilted beyond an angle of 80° or is turned upside down, it glows red. However, due to typical handling circumstances, it is still unaffected by movement.
What if TiltWatch is red?
The TiltWatch XTR's activated (RED) indication does not necessarily indicate that there has been damage. It just suggests that the carton was turned upside down. The only way to know if there has been damage is to conduct an inspection. Please indicate on the bill of lading, delivery receipt, or other document that the indication is RED if it is.
How does TiltWatch work? 
Simply by peeling the adhesive backing from TiltWatch, the sensor is automatically armed. When a shipment is tilted over 80º or is completely upended, the sensor will turn red to indicate tilting over these thresholds.
Not only TiltWatch but also Leaning Label. The sensors are armed in the same way. The gravity sensor rolled along the slopes until falls off the slope. The middle window changes from silver to red because of the difference in color between the gravity device and the background.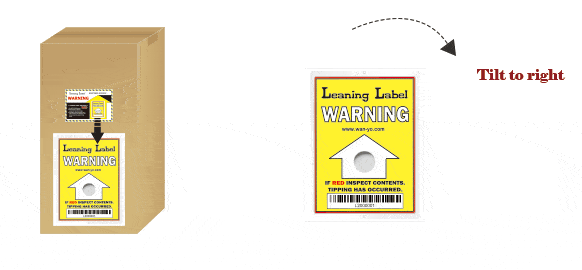 How does tilt watch xtr works?  Refer to Leaning Label
How do I reset TiltWatch?
You should not reset Tiltwatch, either or Leaning Label. This action is tampering. In the past, the sensor was made of metal. Some people would use a magnet to attach the sensor and return to the window along the track. The sensor of the current revision is green. We can't make sure whether it's made of metal. 
However, from the YT video, you will see how to reset the Tiltwatch indicator while Leaning Label cannot be reset through a magnet.
Testing: Leaning Label & Tilt Watch XTR
Functions, certifications, and reliability tests of Tiltwatch XTR and Leaning Label are no different from each other. 
To see is to believe, we did tilt testing for Tiltwatch XTR and Leaning Label. Both unacceptable tilting is the same, and will not be activated from normal handling conditions such as take-off angles.
How do you use TiltWatch? TiltWatch XTR Price 
According to user manual, peel the adhesive liner from the back of the TiltWatch XTR and Leaning Label and then attach to the shipment while holding it in an upright position. Once the adhesive liner is removed, the TiltWatch XTR and Leaning Label are armed.
Tiltwatch XTR and Leaning Label turn to red at the same time in the same angle when the carton is tipped.
From most customers' point of view, as long as the tilt indicator meets "functionality" and "reasonable price". Then this will be the first choice in mind.
Brand awareness represents customers' understanding of a company, and related certifications represent the company's value on products. Both are indispensable. 
As far as we know, TiltWatch XTR Price is around USD $2~$3. If you need more about the prices of Leaning Label or other brands, welcome to contact us!


Read More
| | |
| --- | --- |
| |     Cargo insurance can help to cover up the loss of product, however, it cannot help to get and solve the root of the problem. Customers always place complaints about your products or components in all mess upon parcel/shipment arrival and even ask for returns of goods or refunds…  |
| | |
| --- | --- |
| |     "What the difference between your Impact Label and Shockwatch Labels? Do you have comparing benchmarks?" For peace of mind, you can see the relations of drop height and activation is minor different… |