Spotsee launched the Shockwatch 2 Impact Indicators in 2014. You probably see lots of customers use shockwatch 2 25G & shockwatch 2 50G on their shipment.
The shockwatch 2 gets over the always alive damage during transit and brings convenience for distributors and users but it could have some queries about detection of impact direction.
Although the number of customers continues to increase, then why are some customers loyal to the 1st gen Shockwatch label in their supply chain?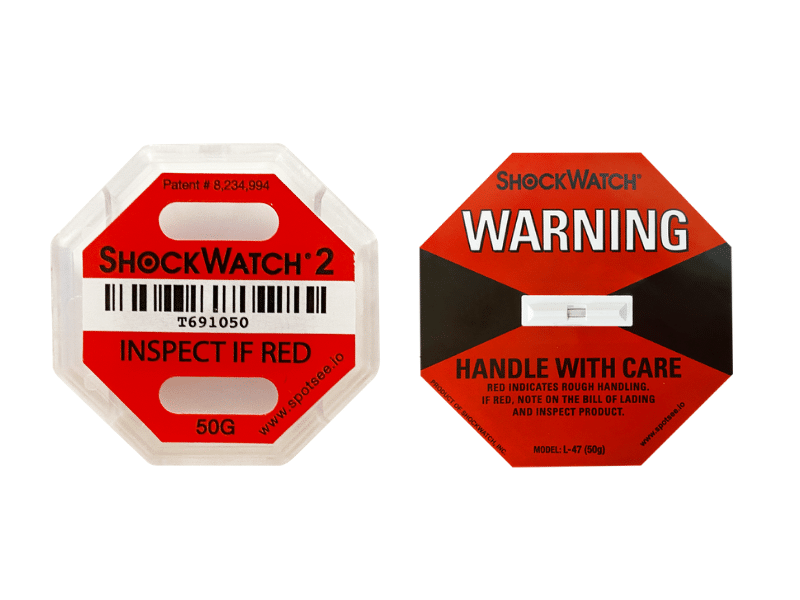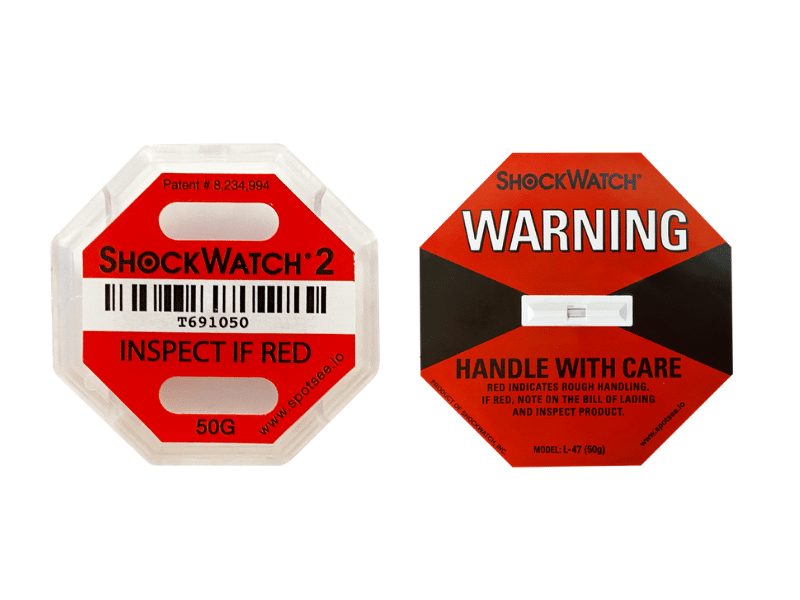 What's different between shockwatch 2 (left-hand side) and shockwatch label(right-hand side)?
Shockwatch 2, How to Work?
Before answering the question, you have to understand how it works. The Shockwatch 2 is a structural change as we discuss how impact indicators of different brands work in markets. The Shockwatch 2 is a structural change.
The Spotsee Shockwatch 2 is made of plastic and stickers. There is a red plastic block with a certain weight in the middle of the product and it is stuck by an on-off switch, and it is matched with two plastic springs. As the switch is removed and if impacted, the red plastic block with a certain weight is moved.
This is how shockwatch 2 damage indicators work and you will see the devices turn bright red.
Functional Test on Shockwatch 2
Now, you understand how Shockwatch 2 works – red plastic block and spring move in one direction. i.e. Shockwatch 2 detects the impact is vertical, from up or down, left or right, front or back, depends on the apply direction. The following link is to do a test for traditional impact indicator and shockwatch 2.
To make nearly omni detections, people from the packaging industry usually apply 3 or 6 shockwatch 2 to cargo for 3 dimensions, but the rising cost is the side effect.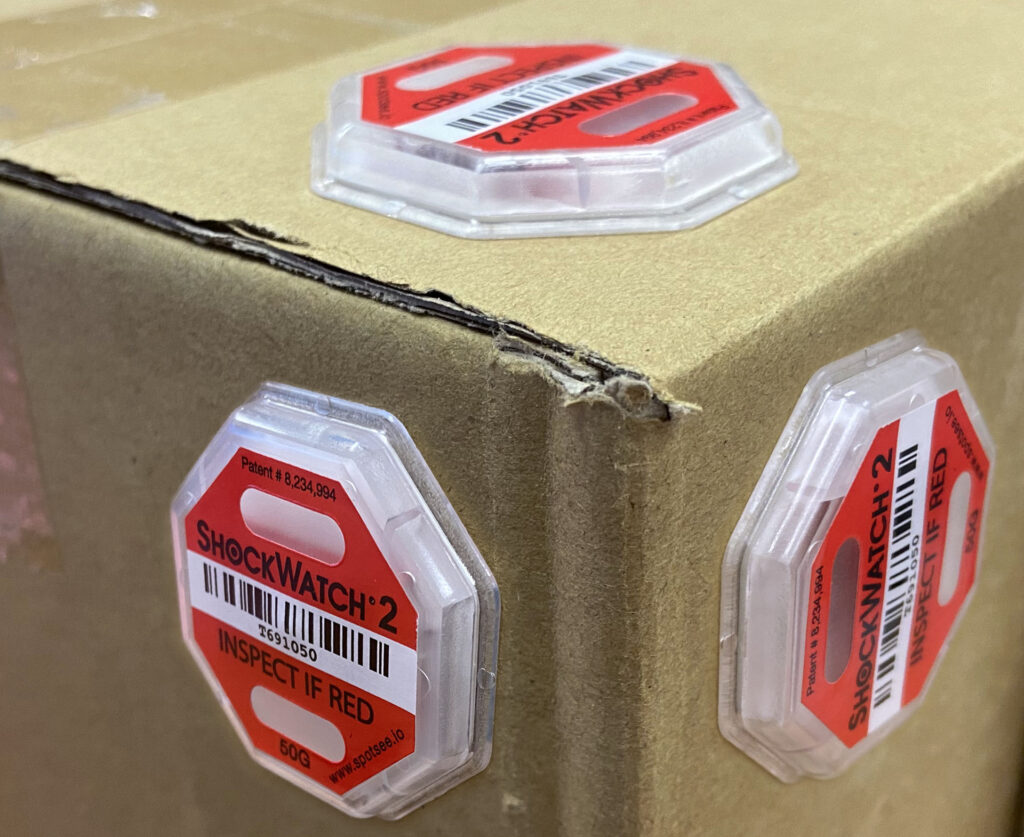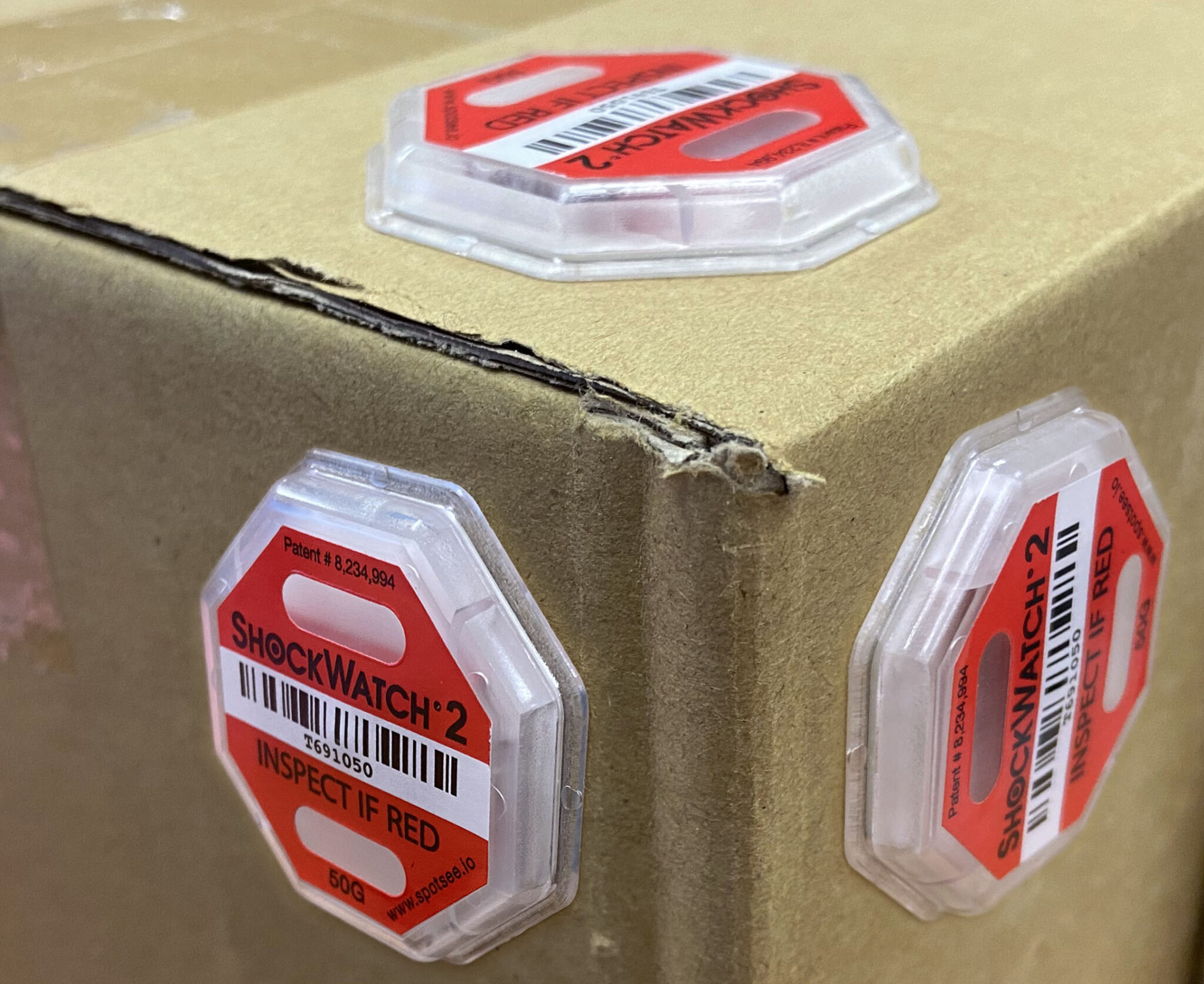 How Shockwatch Labels Works?
The Shockwatch labels devices that turn bright red to indicate impact occurred. The core impact sensor is a glass tube with red water. When an impact force exceeds the threshold, the red water inside rushes out and dying the coating, which comes red visual.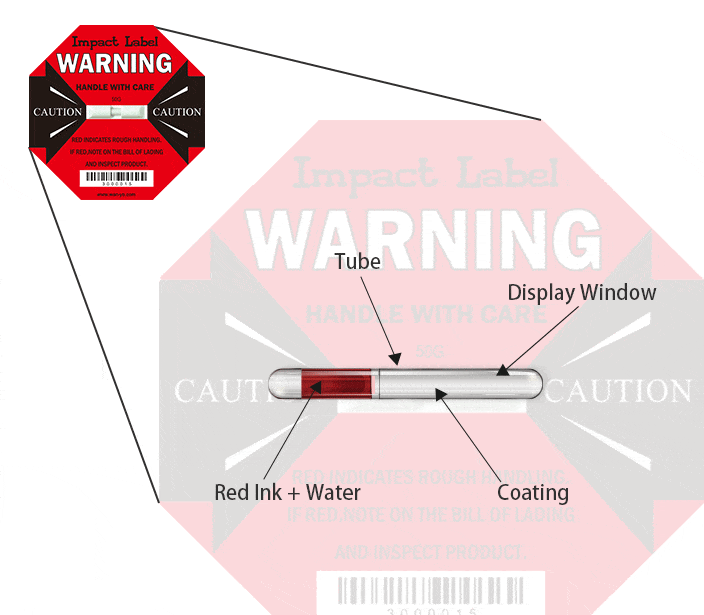 How do Shockwatch impact indicators work?
(The Impact Label was manufactured by WAN-YO, not represent the brand name"Shockwatch." The activation view is only for reference only.)
Shockwatch 2 Price
Shockwatch 2 is relatively easy to come by in the market, so the price is cheaper than the traditional Shockwatch Label. However, to reach 360° detection, it is necessary to use 3 pieces or 6 pieces Shockwatch 2 for cargo. After conversion, the traditional Shockwatch Labels seem to be more cost-effective. For more detailed prices, please refer to Shockwatch 2 Price.
Impact Indicator Market Price
What's different between Shockwatch 2 25G & Shockwatch 2 50G?
Shockwatch 2 25G & Shockwatch 2 50G are currently the most widely used models on the market.
.Shockwatch 2 25G 
Shockwatch 2 25G can detect minor collisions, most of which are used in large equipment or products that are easily damaged.
Suitable for large packaged goods and the following situations:
● Fragile items
● The total weight of the cargo is very heavy
● The volume after packaging is very large
● No slight collisions
● The height of your product fall down cannot exceed 15~30cm
● Wooden packing
● Cannot use manual handling
.Shockwatch 2 50G
Shockwatch 2 50G is a medium-sensitive product, can be applied to large and small goods.
Applicable to household appliances, commercial machinery and equipment, etc. and the following situations:
● Can accept slight collisions or vibrations
● Unacceptable excessive drop or impact
● The height of your product fall down cannot exceed 30~60cm
Summary
Although Shockwatch 2 can reduce damage during transit before use*, however, from the user's point of view, accidental damage to the product during transportation should be responsible for the shipper.
If your goods apply 1 piece Shockwatch 2 due to cost concerns and unfortunately happen to be damaged during transportation, some disputes are possible occurred.
*Note: it's not about the damaged delivery when the shockwatch 2 is applied to cargo.
Read More
| | |
| --- | --- |
| | The shock indicator can record the vibration intensity is recorded during transportation or goods exposed to inappropriate environmental conditions, which is liable to the relevant responsible person… |