How do you reduce transit damage?
With the development of the economy, import/export goods and long-distance transportation are common to see. However, you often hear of damaged goods that have caused losses. What should be done to effectively prevent damage delivery? Stay tuned, with our years' experiences in packaging solutions.
Step1: Using Suitable Packaging
You must know the importance of an effective package, especially for long-distance transportation or export/import logistic. As long as you keep the points for packaging design in mind, the damage and collision of goods are greatly reduced during transportation.
#1 Use A Sturdy Outer Box
Wooden crates, cartons, and pallets all have various levels of protection, cost, convenience, and impact resistance. Cardboard boxes are the most prevalent, but their material and manufacturing methods have an impact on their protection. If you're going to use a cardboard carton, make sure it's a thick one, like a double or triple walled one.
#2 Fill The Space
To keep your items in the center of the box, you should fill the space in the carton. Otherwise, items may move while being transported by road truck. The most frequent materials used are expanding foam bags, bubble wraps, and packing foams.
| | |
| --- | --- |
| | |
| EPE Foam | Packaging Air Bags |
#3 Fasten
When stacking or putting together items above two layers, make sure they fix to each other and use stretch wraps.
#4 Use Handling Mark
Handlers will be alerted by these visual signals, which provide instructions for unloading, transferring, and storing things. Your items' qualities, such as delicate, deterioration, and so on, are displayed on the mark.
A clear sign and presentation are essential since your items will be handled by people from other countries who do not understand your language.
All warning and shipping marks must be permanent and easily visible. It is strongly suggested to avoid using non-waterproof materials when producing shipping labels.
Step2: Using Packaging Accessory
According to the survey, one item is handled by an average of 4-6 handlers for domestic shipment, while this number is significantly higher for international shipping. Customer care, refund handling charge, shipping fee, and production costs are all increased when a package is damaged.
A shipment monitor device is required to reduce the risk of damage, particularly for valuable products, such as precision instruments, medical equipment, LCD screens, servers or solar energy. The shipping monitor gadget has been shown to reduce the risk of damaged packages by 40-60%.
#1 Shock Detector
The shock detector we mentioned here is a shock detector for shipment monitoring. The shock detector has 5 types, each can detect a different impact force and drop height. It is simple to use like shipping marks. You just tear off the sticker and apply it to your outer carton.
Under normal circumstances, the shock detector is white. Once the goods that contain the shock detector are dropped or impacted, the middle window will immediately turn red, indicating product damage. The red activation makes the shipper, logistic chain, and consignee react fastly.
The great advantages of using a shock detector are to remind the handlers of a careful handle and to provide smoking-gun evidence in case of damage delivery. Moreover, most handlers pay more attention to goods with shock detectors to avoid trouble.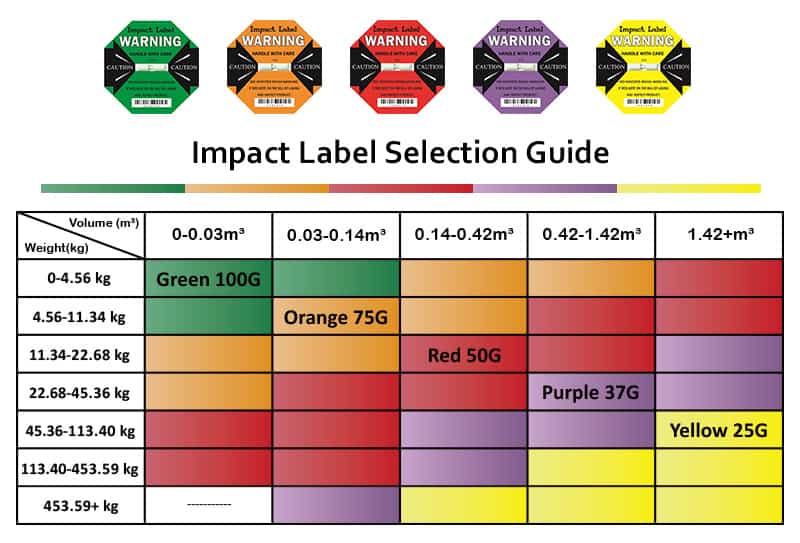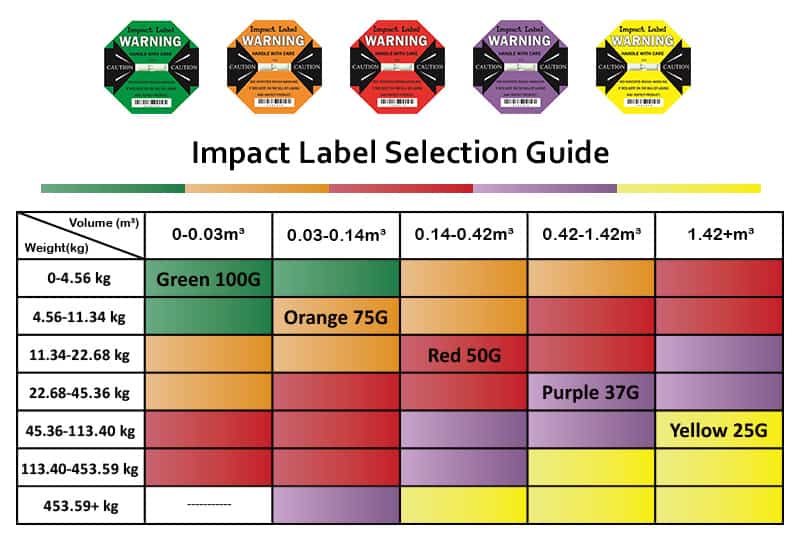 Shock detectors fit various packaging
#2 Tip Indicator
The tip indicator turns from silver to red on a plane greater than 80°. Its usage is as simple as shock detector. Just tearing off its back adhesive and apply it to the outer surface of shipments.
When the tilt angle of the anti-tilt label on a plane is greater than 80°, the indicator in the middle will turn from silver to red, and it is as simple to use as the anti-shock label, just tear off the sticker and stick it on the goods.
Under normal circumstances, the tip indicator remains silver, even if the airplane takes off or landed, the tip indicator will not cause error activation.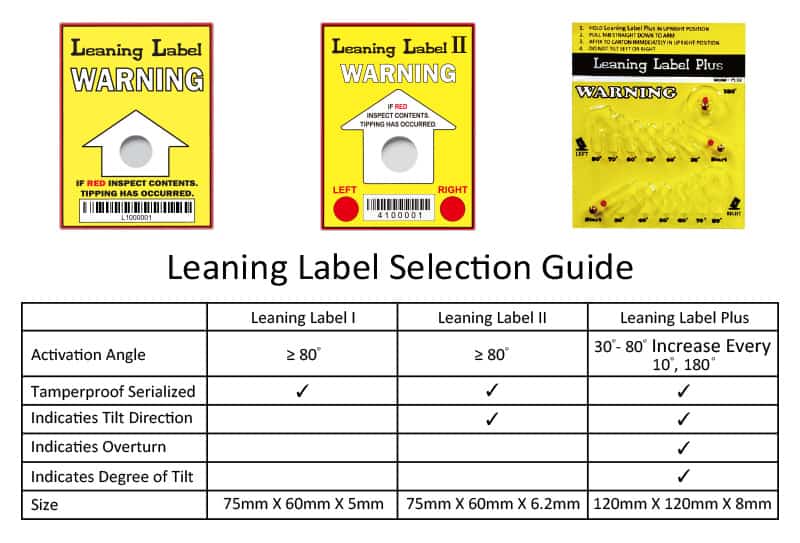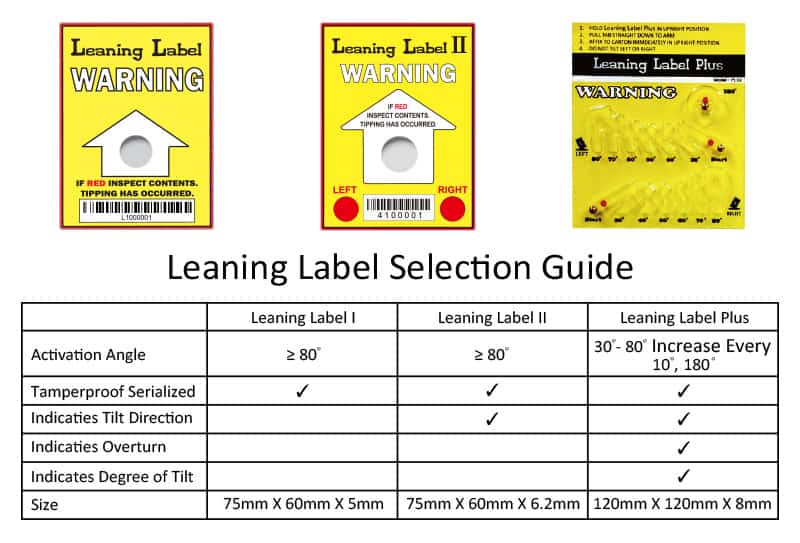 Tip indicators fit various packging.
Step3: Shipping Via Great Carriers
Complete equipment, timely delivery, and well delivered are three criteria of a renowned carrier.
#1 Complete Transportation Equipment
An artisan needs the greatest tools to accomplish a successful job. For each shipment, the complete equipment ensures maximum effectiveness and protection, such as cranes, stackers, air-ride trucks, etc.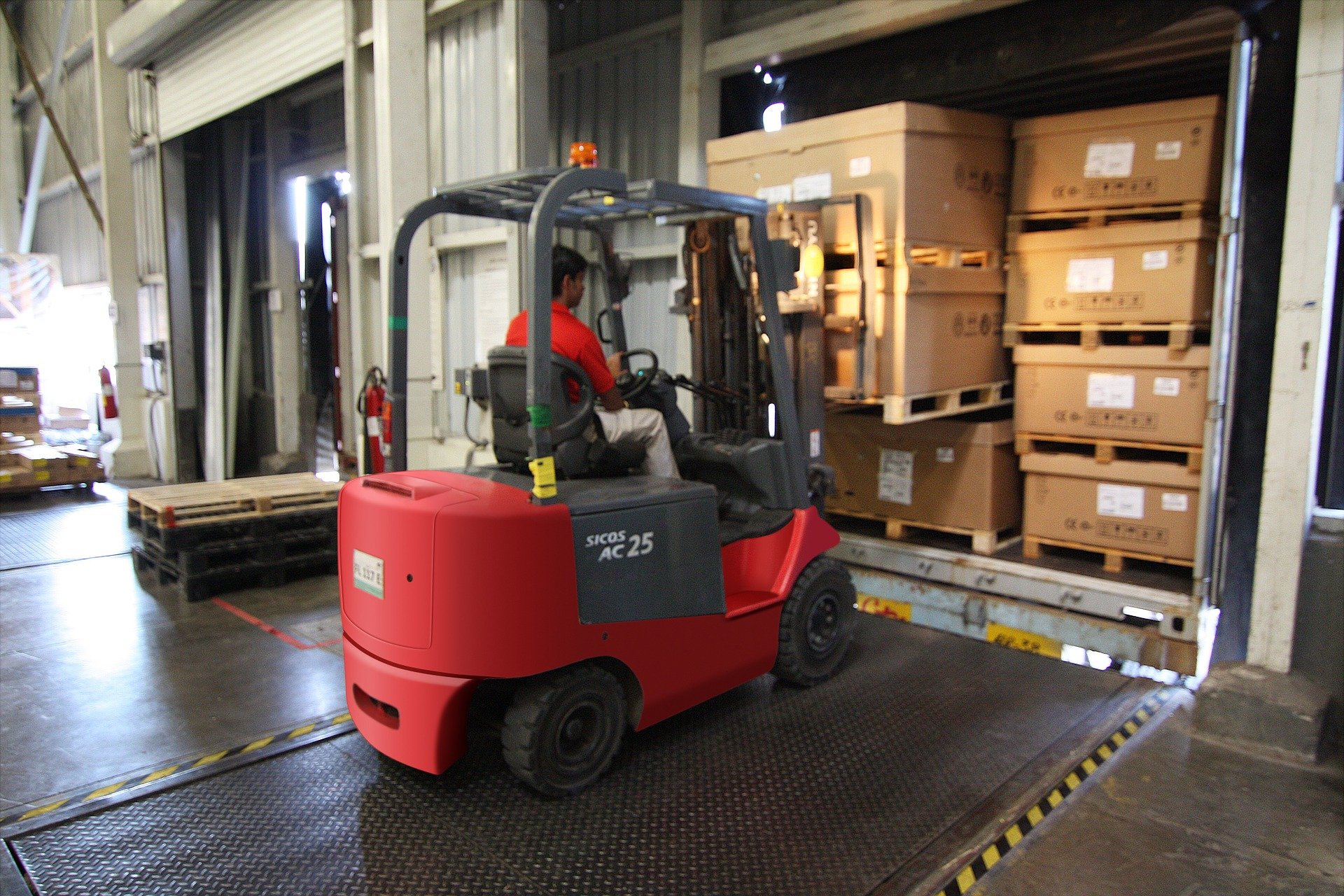 #2 Prompt Delivery
Because there is less handling by handlers, there are fewer hazards of impact or mishandling. According to the study, humans cause more harm to parcels than natural causes.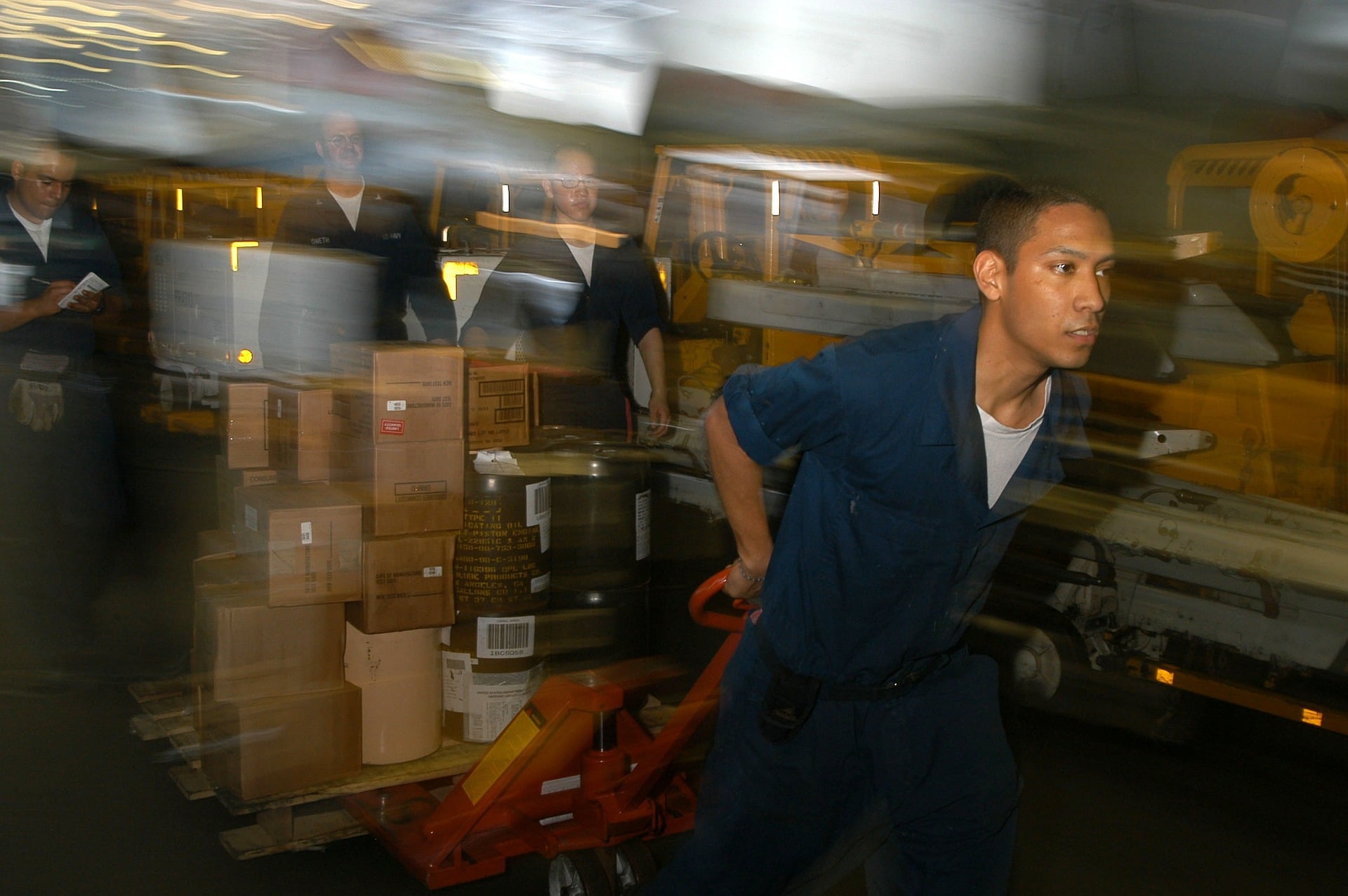 #3 Well Delivery
The appearance of most products will be affected during transportation, but dents or holes are more likely to cause internal product damage.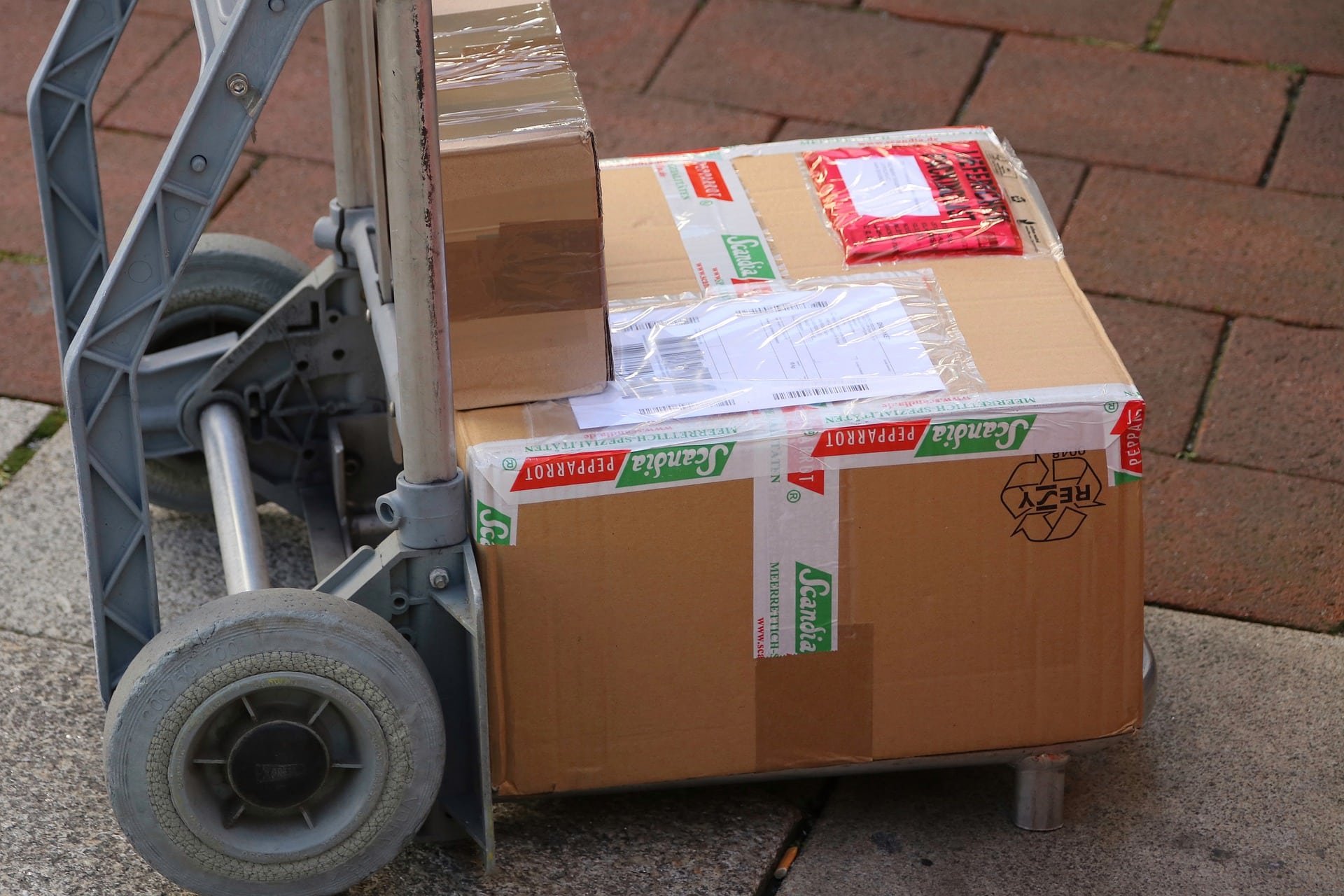 Let's Prevent Damage Delivery Today.
The duties of a company to the items are to prevent damage delivery and to provide additional protection for the goods. These are concerns that need to be addressed. It will be a huge loss and not worth it if the quality of transportation impacts the reputation of businesses.
Have More Questions on How to Do?
Read More
| | |
| --- | --- |
| | In the business of shipping, especially for long-distance transit, your cartons must be properly labeled since shipping labels serve as instructions to each carrier who will be handling your items. |