What is the purpose of shipping Mark?
In the business of shipping, especially for long-distance transit, your cartons must be properly labeled since shipping labels serve as instructions to each carrier who will be handling your items.
Remember, your goods are in boxes, so people will not know what they are or what care should be taken when shipping them. Handlers must be able to recognize the type of product they are handling and what precautions must be taken to ensure safety and efficiency before unloading a truck/load the container/palletize boxes for delivery (and so on) touch a box.
Except for handling, these marks are also utilized for identification and to keep consignments together. If your items aren't large enough to fill a container, they must be clearly identified. That is why carton markings are so crucial in LCL shipping.
What is shipping mark in export?
According to Merriam-Webster, a shipping mark is "an identifying word, number, or symbol placed on freight to designate the consignee, destination, weight, and related information." In practice, a shipping mark includes information such as the item's size, the origin of country, and the quantity of products in the carton.
The information on the carton should match the information on your supplier's packing list. Other information that may be included is utilized to manage your products when you receive them.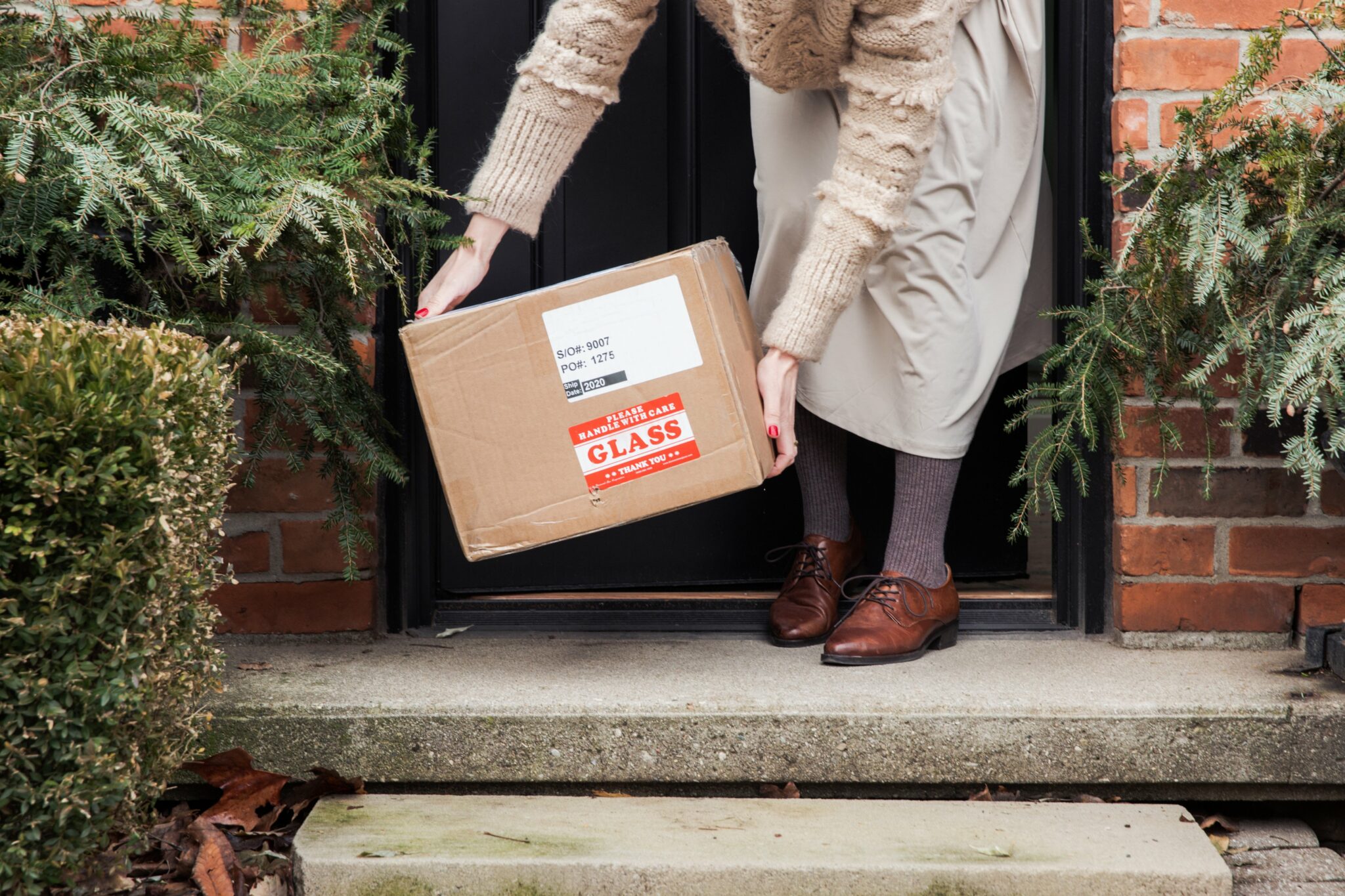 Do I need a shipping mark?
Yes, you do. No matter domestic or international transit, we suggest using shipping marks to indicate handlers carry your cargo properly.
In order to identify import and export goods quickly, in transportation, inspection, warehousing, customs declaration and receipt of the consignee, all shipments are required to write or use a certain specification mark on the outer packaging of the goods, based on the consignee's requests. The rule ensures smooth delivery and avoids wrong delivery.
You need to stick the corresponding labels on the outer packaging and make the consignee receive goods quickly and accurately.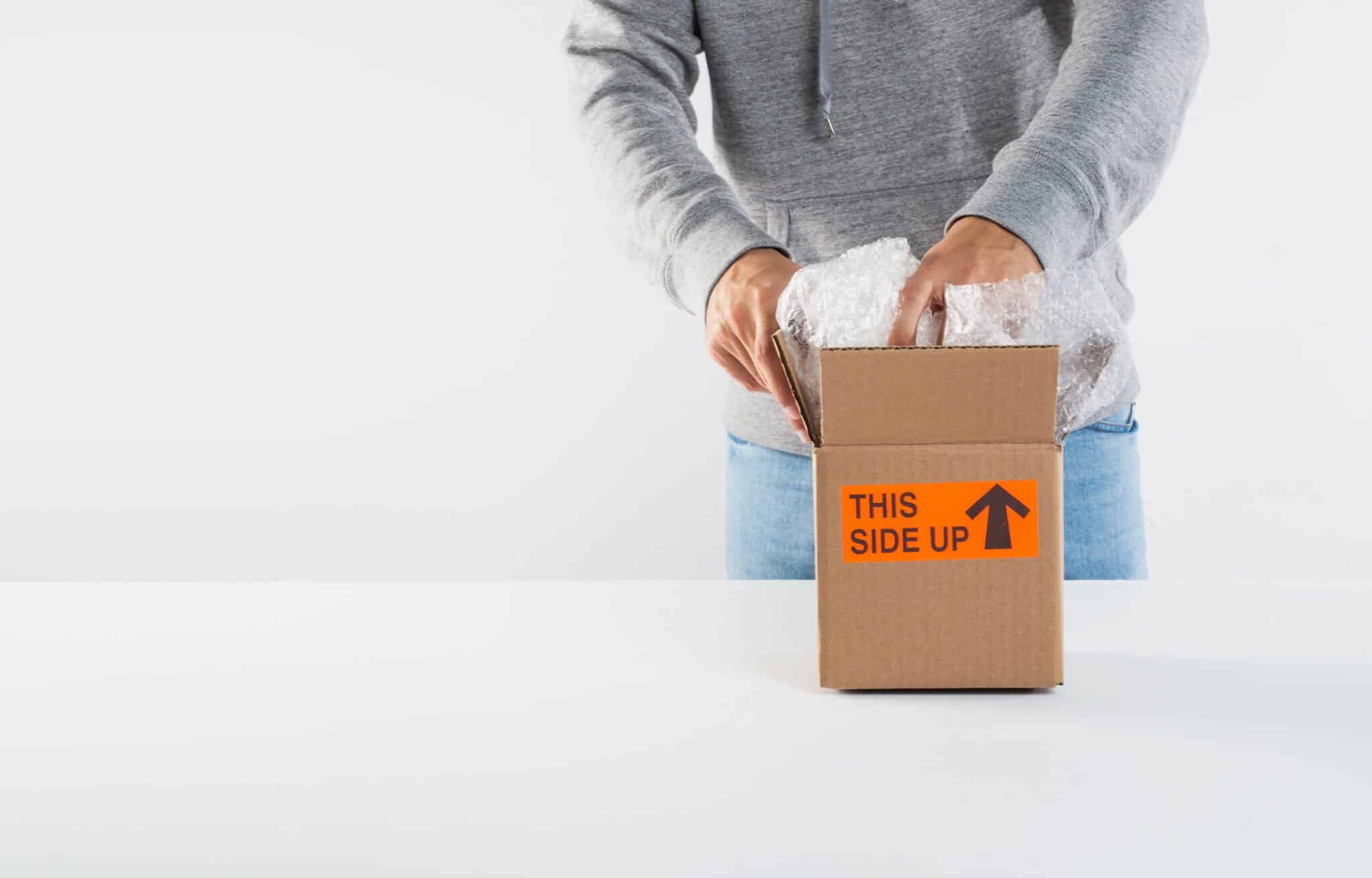 4 Common Shipping Marks
The UNECE, United Nations Economic Commission for Europe, simplifies an international trading process and recommends a standard shipping mark to all countries, in order to fit transportation development and E-commerce.
The mark should be simple, clear, medium size, easy to identify, strong color. Shipping marks are used on the two corresponding sides of each package for quick loading and identification.
These identification marks give vital information for carrying and handling, as well as identifying the consignee. Some mistakes have also happened. So, let's go through them one by one.
.Handling Marks
.Dangerous Goods Markings
.Main Mark: Consignee Mark, Carton Number, Country of Origin Markings, Destination
.Side Mark: Size Markings, Weight Marks
#1 Handling Mark
Handling marks are visual icons that draw attention to handlers and provide instructions when un/loading, moving, or storage. The mark indicates your product traits, such as fragile, deterioration…etc.
Clear icon and visualization are extremely important because your cargo will be handled by people in different countries who do not understand your language.
All warning and handling shipment marks must be permanent and extremely legible. When producing shipping marks, it is strongly suggested that try to avoid materials that are not waterproof.
| | | |
| --- | --- | --- |
| | | |
| Handle with Care | This Side Up | Keep Dry |
#2 Dangerous Goods Markings
If you are transporting any of the 9 classes of dangerous products, you must ensure that your boxes are appropriately labeled with the hazard symbols.
This is due to the fact that risky commodities (items that are hazardous for travel – since transport circumstances might induce reactions that make them unstable) Products (that are not necessarily harmful in and of themselves) must be handled with caution and ensure safety of goods and operators.
UN performance packaging requirements went into effect in January 1991, and any shipping firm seeking to carry potentially hazardous products need ensure compliance with the UN criteria.
| | | | |
| --- | --- | --- | --- |
| | | | |
| Explosive | Flammable | Toxic | Corrosive |
#3 Main Mark
The main mark is used to stick in the front of the carton. Consignee name, carton number, country of origin, and destination country are required on the mark. The consignee's name puts within the rhombus lines.
Keep in mind that you should get extremely familiar with the policies and you must strictly adhere to the marking regulations of your clients. Failure to do so may result in chargebacks and razor-thin margins.
Costoms in most countries requires mark the country of origin. Not doing so might lead to customs delays and extra service fees. 
(Free Template Sample: Main Mark)
① Abbr. consignee's name: _____________Co., Ltd.
② destination: LOS ANGELAS
③ carton serial number:   (Number of Cartons) – (Total Box Numbers)  
④ country of origin: MADE IN    (Country Name)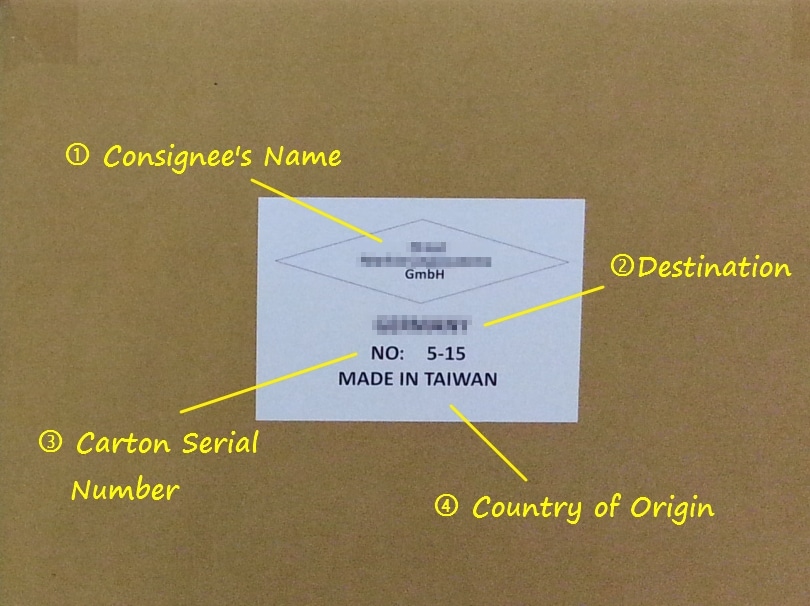 #4 Side Mark
Other shipping details such as product name, quantity, net weight, gross weight and size of the case are on the side mark.
An accurate and clear mark of gross weight and net weight is important to prevent customs delays. This is the most common reason for the delay. Make sure the exact weight, weight on shipping documents and printed weight on the carton are complies with each other.
(Free Template Sample: Side Mark)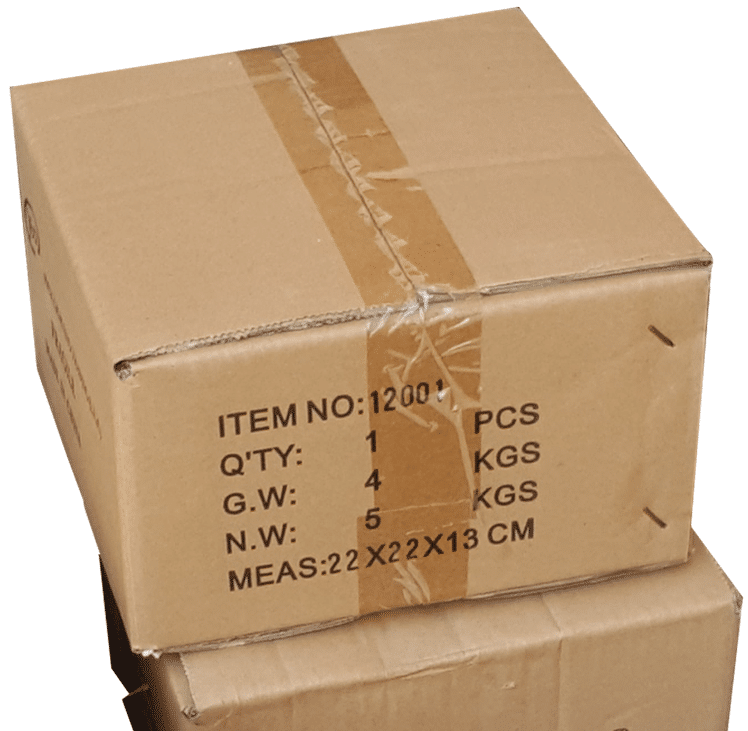 What Else You Should Include?
Using indicator labels can increase the safety of delivery. In the transportation monitor field, there are various types of monitor devices that help shippers control the supply chain.
With label indicators attached to the products, your carriers will be aware that they must be more cautious while shipment.
Even if shipment damage happens, your clients and you will have irrefutable documentation to back up your damage claim. Firms that import shipping indicators may easily prevent many conflicts and safeguard their company's image.
Always cross-check properly labeled
As previously stated, these shipping marks are crucial to transit from start to destination. Clear info of the cargo can not only make the operation faster for operators but also protect the cargo. To effectively reduce the damage rate of goods, you can use an impact indicator and tilt indicators which indicate mishandling events.
Moreover, margins are frequently razor-thin. This implies that if you want to prevent delays, costs and damage, you must ensure that your boxes are properly labeled.