Impact indicators have gradually become the best choice for monitoring transportation in various industries. Not only economical in price but also simple to use, impact indicators effectively reduce the damage rate of goods.
So for many first-time enterprise users, what are the tips to buy impact indicators?
Impact Indicator Model Selection
The impact sensitivity (g value) and impact indicator models (colors) are different. It is very important to choose product specifications.
To choose the correct product model and effectively protect the your goods. You can refer to our previous article "『4 Ways』 to Choose Shock Indicator Models".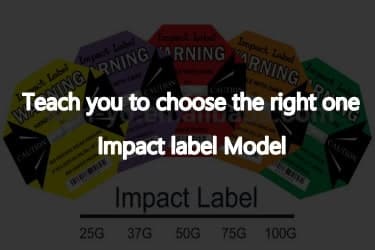 Buying Quantities
The impact indicator is always in a detection state, so the indicator is possible to be activated during transportation. The customer receives the activation impact indicators.
In order to solve this problem, we recommend that companies buy impact indicators by the minimum order quantities (MOQ), especially for sensitive models.
* Standard packaging for Impact Label is 1600PCS/CTN.
| Model | MOQ |
| --- | --- |
| 25G、37G | 1600 PCS |
| 50G、75G、100G | 600 PCS |
Impact Indicator Buying Quantity Suggestions
Impact Indicator – Patent & SGS Reports
Most companies use impact indicators to export goods to all over the world. Customs may require impact indicator patents or SGS reports.
When your company ignores the two documents, the impact indicators are possible to be detained by the customs and leading to serious consequences.
For details, please refer to our "Patent and Certification".