Most companies insured 'cargo insurance' for their goods, but know little about it. In the following, I provide some tips and explain the neglect of cargo insurance.
Chapter 1:  Risk During Export/Import Goods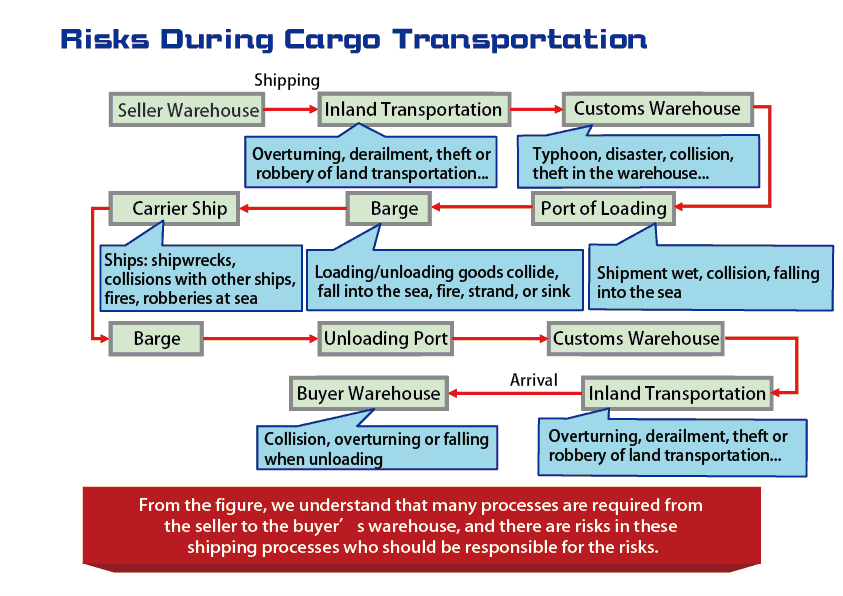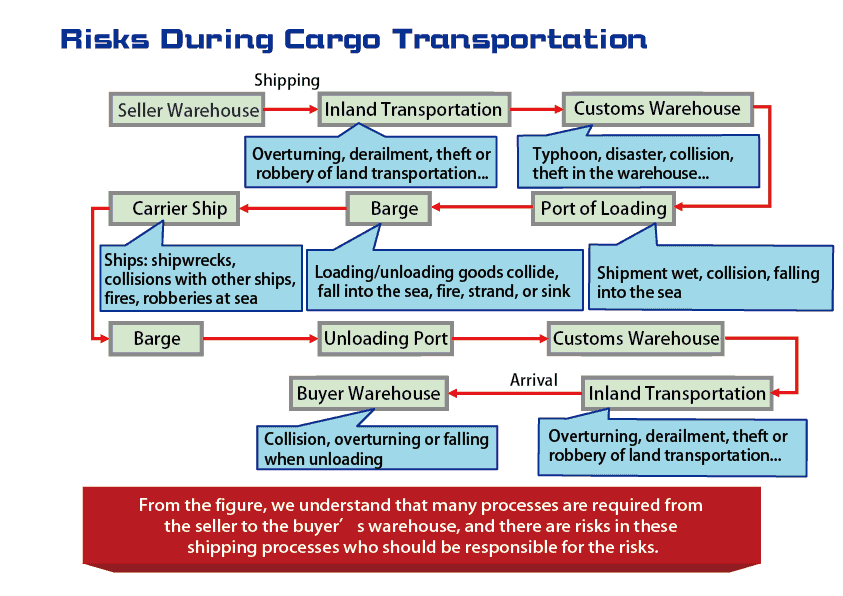 There are so many risks during transit goods, it means, we have to buy insurance for the valuable goods or equipment when shipped, then it's guaranteed. The following are international trade terms based on INCOTERMS 2010. Who is responsible for buying insurance?
INCOTERMS – Who is responsible for buying insurance, the buyer or the seller?
| | | |
| --- | --- | --- |
| Terms of Trade | Code | Who is responsible for insurance? |
| EX-WORKS | EXW | Buyer |
| FREE CARRIER | FCA | Buyer |
| FREE ALONGSIDE SHIP | FAS | Buyer |
| FREE ON BOARD | FOB | Buyer |
| COST AND FREIGHT | C&F | Buyer |
| COST, INSURANCE AND FREIGHT | CIF | Seller |
| CARRIAGE&INSURANCE PAID TO– | CIP | Seller |
| DELIVERY EX SHIP | DES | Seller |
| DELIVERY EX QUAY DUTY PAID | DEQ | Seller |
| DELIVERY DUTY UNPAID | DDU | Seller |
| DELIVERY DUTY PAID | DDP | Seller |
* Red marks as common terms of trade
Chapter 2:  Introduction and Coverage of Transportation Insurance Products
After understanding who is responsible for insurance, it is necessary to have a deeper understanding of the insurance content.
2-1  Types of Insurance
a. Marine Cargo Insurance
b. Inland Cargo Transit
(a) Inland cargo transportation insurance
(b) Commercial movable property mobile comprehensive insurance
(c) Cargo carrier liability insurance
(d) Sea and air carrier liability insurance
(e) Ship hull insurance, aviation hull insurance
(f) Fishing boat insurance, liability insurance
2-2 Coverage
a. During normal transportation
b. Temporary parking during normal transportation, shall not exceed seven days
c. During repair and maintenance
d. Operation period
e. The period of entrusting others to process
f. The period of entrusting others to sell
g. during the tour display sales period
h. Lease for use by others.
The following is a detailed description of coverage from an insurance company.
---
2-2-1 Comparison of Type A and Type B Coverage
| Coverage | A | B |
| --- | --- | --- |
| ◎Fire, Explosion | V | V |
| ◎Accidental collision or overturning of the vehicle | V | V |
| ◎The goods are dropped or damaged during transportation | V | X |
| ◎Loading and unloading (excluding lifting) | V | X |
| ◎Theft, failure to deliver, delay | X | X |
| ◎Third party property, physical injury, death | X | X |
※ Type A can be insured against theft at an additional fee.
---
2-2-2 Common exclusions for Type A  and Type B
Some terms are not covered.
Exclusions listed in the basic terms
Losses due to delays in delivery and big negligence of the carrier.
The shipper's packaging is not solid, resulting in loss of leakage.
Loss caused by overloading and overspeeding of transportation
Other exclusions (can be specially agreed to undertake)
Damage caused by cargo loading and unloading.
Damage or loss caused by over-height or overweight loading of goods or transportation tools.
* Definition of "carrier": a person (individual or group) who is legally registered and possesses a means of transport to transport others' goods and receive remuneration.
Includes: 
a. Container transportation company-container truck (closed type), tractor truck (trailer)
b. Cargo operation-large trucks (open), flatbed trucks and vans
c. A crane and stacker from the lifting company
d. Express logistics company
Chapter 3:  Loss Occurs, What Should I Do?
The following is the insurance claims process:
3-1  Cargo Insurance Claim Process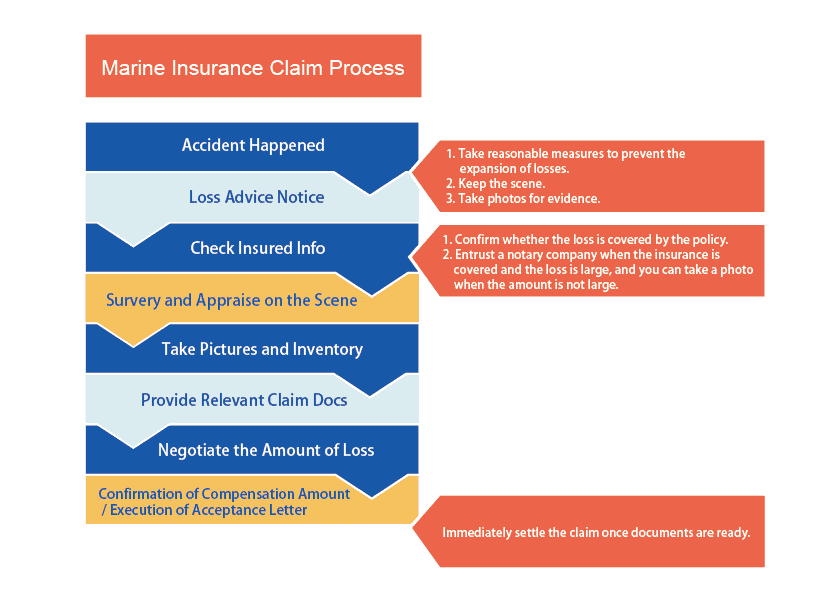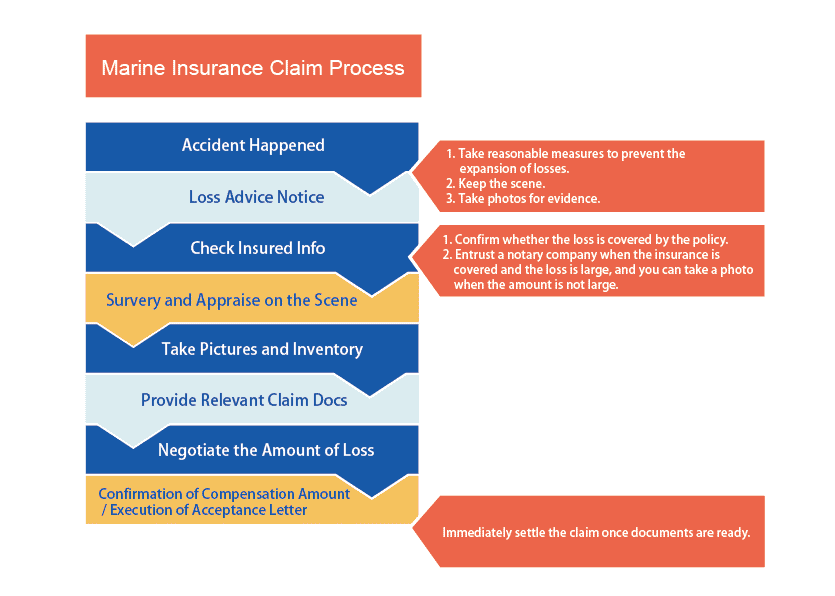 ---
3-2 Claim Procedures
1st Stage: A. Pick Up

2nd Stage: B. Goods Damage & C. Damage Notice

3rd Stage: D. Investigate & E. Calculate Loss

4th Stage: F. Claim Documents
In the first stage, the pick-up goods lead to difficulty of claims due to the negligence by handlers. Therefore, the company must add the following 2 points that need to be noted and trained for the receiving staff when accepting goods.
3.2.1 Is the Appearance in Good Condition?
Are the "weight" and "numbers" comply with the airway bill?
The outer package situation: the packing strap and PE film should be completed.
Packing situation of inner box and small box: the sealing tape should be completed.
3.2.2  Are Indicators Activated and Signs Damaged?
Impact Indicator
Tilt Indicator
Signs: This Side Up, Fragile, Handle with Care, Keep Dry…etc.
Chapter 4:  The Insurance Company Needs to Know the First Timing As Notification
Here are the requests that insurance company ask for after loss advise.
● The timing and type of accident? What kind of goods? (For Understanding)
● Where is the accident location? Where is the current cargo? (Required)
● Are there any photos of the scene? (Try to Get)
● Do you have an estimated quantity and amount? (Try to understand)
● Is there any abnormal certificate issued by the carrier? (Try to understand, but this is a required document for claim settlement)
● Please provide the local contact window and method. (Required)
Summary
Although transportation insurance is a bit complex, it is currently the most effective way to provide compensation for goods damaged during transportation. Therefore, we strongly suggest companies looking for advice from insurance companies when transporting expensive goods or equipment, and choose the most suitable insurance.
In the event of a damage incident, the loss may be enough for the company to pay for the insurance amount for a whole year or even several years, which is "penny-wise, pound-foolish!"