Impact Tube 【Minimal Impact Indicator】
The Smallest Logistics Impact Indicator
Visual and Irreversible White to Red Color Change
Clarifies the Responsibility of Damage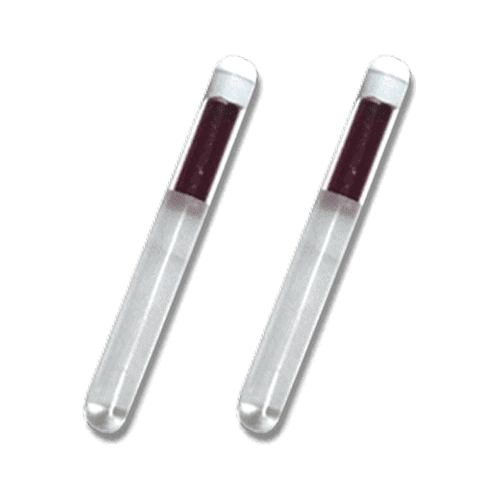 Product page – 6 tabs
Description
The Impact Tube turns red, indicating an excessive impact force.
Impact Tube is the smallest mechanically operated shock indicator, providing reliable shock detection at minimal size and weight. This  allows customers to embed this impact-sensing technology directly into products or inside the products without requiring power source.
Impact Tubes are an ideal solution to power and cost considerations when you need to know if product mishandling may have resulted in misalignment, attribution of liability, loss of product calibration or warranty-related repair issues.
When to use?
If you meet the following conditions, Impact Tube should be your first choice.
Small adhesive surface
Slight collision unacceptable
Fragile goods
Expensive shared devices
Place shock indicators directly to the product
Warranty repair products
Need to investigate impact force secretly
Product Name

Impact Tube

Dimension

10G/15G/25G/37G: Φ 3.4 x 19 mm
50G/75G/100G : Φ 2.4 x 19 mm

Sensitivity

10G, 15G, 25G, 37G, 50G, 75G, 100G

Tolerance

± 15%

Reaction Time

0.5 – 50 ms

Operating Temperature

-25°C to 80°C (-13°F to 176°F)

Installation

Adhesive

Shelf Life

2 Years
Indicator Placement (Please reload the page if the display is blank.)
How to use Impact Tube?
Simply glue or fix the Impact Tube inside the product.
Besides shock indicator, we have tilt indicator, pallet cushion to give you a hand. Check what we can do for you!
OEM/ODM service for shock indicator and tilt indicator
Goods Tracking System 【Free of charge】Impact Label – Leaning Label
Feel free to let us know if you have any questions.