Dual Impact Label 【"2X" Shock Indicator Labels】
PRODUCT FEATURE
VISUAL DETERRENT & ALERT HANDLERS
Shock Monitor & 2 Impact Point Detection Accurately Diagnose Whether Protective Packaging Was Enough To Absorb the Damage Shock.
MONEY-SAVING, TIME-SAVING, EFFORT-SAVING
Decrease Direct/Indirect Cost of Transportation-Caused Damage. Quick Inspection Before Acceptance. Increase Integrity of Product and Enhance Corporate Image. 
SIMPLE TO USE & SIMPLE TO ANALYZE
No Electric Power Required, Only Peel and Stick. Accurate Impact Force Helps Analyze Effect of Packaging Protection
LOGISTICS & HANDLING MONITOR
Pinpoint Trouble Spots In Supply Chain, Indisputable Evidence of Mishandling for Freight Claims, or Repeated Mishandling
TAMPER PROOF & LOGISTICS ACCOUNTABILITY
Unique Serial Number to Verify Authenticity, Manage Product Conveniently, and Clarify Responsibility For Damage
ISO 9001:2015 CERTIFICATION & OEM SERVICE
Certified International Quality Assurance Control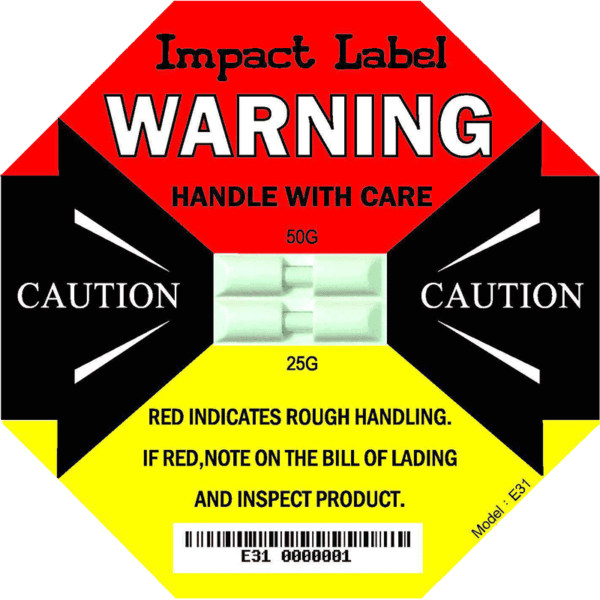 Product page – 6 tabs
Dual Impact Label Double Shock Indicator Labels
Dual Impact Label, double shock indicator labels by WAN-YO can detect two different impact set G-force which is an upgraded and brand new version of the traditional shock indicator label with double tube impact sensors.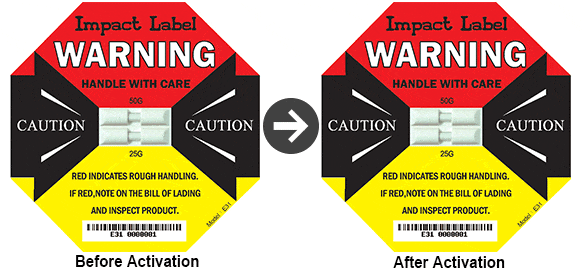 Activation View
WAN-YO Dual Impact Label – Shock Indicator Labels
How Do Shock Indicator Labels Help?
The double tube shock indicator label provides more accurate shock detection and monitors your goods during transit or in storage, as well as can help to "reject cargo" or "defective pre-warning" which makes works time-effective for corporates.
General shock indicator labels have only one display window and usually fail to reflect the accurate impact force. The impact force is much larger than the selected impact detector label, resulting in the products getting more severely damaged.
Double shock indicator lable is also an impact diagnostic tool to be used to determine the package sensitivity during drop testing for packaging engineers, distribution analysts, product designers, and manufacturing engineers. 
When to Use?
The Dual Impact Label is widely used for the following situation.
1. Shorten inspection time before acceptance
2. Analyze cargo damage from warehouse, distribution to destination
3. Confirm package sensitivity during transit
Selection Guide

Select the first model which complies with your package and then confirm to add a higher/lower sensitivity model.
.Reject Shipment
When the higher sensitivity model activates, the cargo can be rejected directly because impact force is greater against impact resistance, probably damage has happened.
.Pre-Warning
When the lower sensitivity model activates, the product is probably defective because of a slight collision during the delivery process. The consignee should conduct a closer examination before acceptance.
No Idea of Selecting Suitable Dual Impact Label?
We recommend you contact us to discuss your application so that we can assist you in choosing the correct types for you or if you wish to purchase over 2000.
| | |
| --- | --- |
| Product Name | Dual Impact Label |
| Models | E31 |
| Dimension | 97 x 97 mm |
| Sensitivity | Free Choice - 10G, 15G, 25G, 37G, 50G, 75G, 100G |
| Tolerance | ± 15% |
| Reaction Time | 0.5 – 50 ms |
| Operating Temperature | -25°C to 80°C (-13°F to 176°F) |
| Installation | Back Adhesive |
| Shelf Life | 2 Years |
How to use Dual Impact Label Doube Shock Indicator Labels?
Confirm the Model
Tear off the Dual Impact Label and apply it on the correct position
※ Suggestion: Stick 2 Dual Impact Labels on the Opposite Corners for Large Goods.
Besides shock indicator, we have tilt indicator, pallet cushion to give you a hand. Check what we can do for you!
OEM/ODM service for shock indicator and tilt indicator
Goods Tracking System 【Free of charge】Impact Label – Leaning Label
Feel free to let us know if you have any questions.